Alex "Eric" Boutin, aka "The Jeweller"
Entry into Vie@ProgressionLIVE: November 12, 2018
Those who have been following us for a few years will surely have noticed that everything is changing rapidly at ProgressionLIVE. Among other things, our project team is keeping pace with the growth in the number of our customers. Indeed, the number and functions of our project managers are constantly adapting to the request of the users of our solution.
Thus, we regularly hire humans to help you in the integration of ProgressionLIVE in your company. This is the case of Alex, who has been a new project manager at ProgressionLIVE for a few months now. Now fully integrated into our team, I had the chance to talk with the one that some customers call "Eric", to learn a little more about this character we call "The Jeweller".
Maxime-Julien: Hi Alex! Can you tell us a bit about your background?
Alex: Absolutely! I am from Chibougamau (Quebec). I have a diploma of professional studies (DEP) in cooking. I also worked in the kitchen in the corner of Quebec, for almost 6 years. Then, I took a jewelry course, which allowed me to work in a workshop in Granby and Trois-Rivières. Then I worked in a cell repair shop as a trainer and even a manager.
Maxime-Julien: A rather unusual course! What brought you to ProgressionLIVE?
Alex: First, I was looking for a new job in the corner of Trois-Rivières. While I was looking for Emploi Québec, I came across a ProgressionLIVE technical support agent offer. Then, by visiting the website, the work atmosphere, the relevance of the software, the flexible hours and the possibility of remote work really attracted me to apply.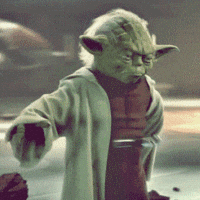 Yoda, favourite Star Wars character
Maxime-Julien: What is your role with us and how do you find Vie@ProgressionLIVE?
Alex: Well, at the beginning, I was in technical support, so I answered the phone, email and chat with customers to answer their question about our solution. But today, I am in charge of projects. I take care of supporting new customers in the implementation of ProgressionLIVE in their business.
Honestly, the Vie@ProgressionLIVE is great! The team is easy to integrate and is welcoming. In addition, the work environment is really stimulating, in fact, it gives the taste to work even more, it is very user-friendly.
Maxime-Julien: According to you, what is your greatest professional achievement and what are your three (3) greatest strengths at work?
Alex: My greatest accomplishment is definitely to have created personalized jewelry for people of Trois-Rivières. Today, I am very proud to recognize jewelry worn by former customers that I myself made. Then, quickly like that, I'll tell you that my main strengths are my ability to adapt, my learning ability and my ability to synthesize.
(Image credit: Philibertnet.com)
Kitchen Rush, favourite board game
Maxime-Julien: Great! What are your fields of interest and your hobbies?
Alex: I have strong interests in programming, 3D design and video games. I love making products, using my 3D printer.
Maxime-Julien: Would you have a little professional anecdote to conclude this interview?
Alex: Absolutely! On my first day as a Project Manager at ProgressionLIVE, I contacted a client. I introduced myself: "Hello Mrs. X, it is Alex at ProgressionLIVE …". Well, I think she understood that my name was Eric, because when she contacts me, she always says, "Hello Eric! It's Mrs. X, … " So I changed my name in our internal communication tools at ProgressionLIVE: I am now Eric Boutin, haha!
Maxime-Julien: Thanks Alex for this interview, it's very appreciated!
Alex: Thanks to you!
---
If you want to stay informed about the latest news about ProgressionLIVE and updates, sign up for our newsletter.