This week's menu includes a few minor improvements to our web platform and a new feature to eliminate even more paper.
New feature: Manually send the work order by email
In order to eliminate even more paper (and save you from having to set up a printer on a mobile phone). We have developed a new mobile feature that allows the employee on the road to email or text the task's PDF to the customer.
This feature will allow many to avoid depending on an automatic mechanism in their account for sending the PDF (which could be an issue for those who had slightly longer processes). It also allows you to offer quality service to your customers by guaranteeing them reception of the invoice/work order/report, before leaving the premises.
This feature will be available to all users. However, it will be possible to deactivate it if necessary.
To learn more about using this feature and how to activate it, follow this link!
This feature will be enabled for all customers by December 22.
New button to access the human resource file
We want to avoid you as many clicks as possible. It is therefore now possible to access the human resource file directly from the task.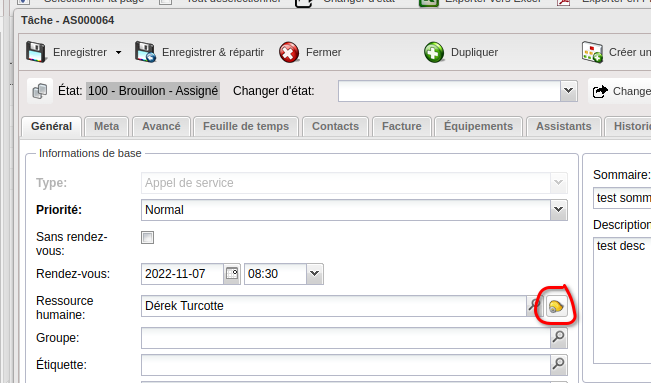 Improvement to the task duplication
A technical challenge was finally overcome! It is now possible to duplicate a task to any type.
Attention! Some fields may not be duplicated automatically, if so, contact technical support who can help you resolve the situation.
Improved planning screen performance
If you're the type to frequently change your filters in planning mode, this one is for you! We have optimized the screen and improved performance by around 80% when applying filters (refreshing the window).
Improvement to our timesheets and tasks Excel exports
For our customers with a lot of tasks (or employees). It is now possible to pre-filter exports by selecting human resources (timesheet export) or task types (task export) when exporting data.
Bug fixes
Display of tooltips in planning mode.
Problem with managing attachments on iOS.